Almond Flour Frosted Sugar Cookies
Prep time: 15 mins
Cook time: 8 mins
Total time: 23 mins
Makes 24 small cookies

Ingredients
For the cookies: 2 cups almond flour
¼ cup coconut oil, softened (or use butter instead)
¼ cup raw honey
½ teaspoon almond extract
¼ teaspoon fine sea salt
For the frosting: 2 tablespoons coconut oil, softened (or butter)
2 tablespoons raw honey
½ teaspoon almond extract
pinch of fine sea salt
Instructions
Preheat oven to 350F.
In a medium bowl, mix together the cookie ingredients until a thick, creamy batter is formed.
Using a cookie scoop, drop the batter by rounded tablespoons onto a baking sheet, lined with parchment paper. Press the cookies with the bottom of a glass - use parchment or heavy plastic in between the glass & the dough - a heavy freezer bag works really well!
Bake for about 8 minutes at 350F, or until the edges turn golden brown.
Allow to cool on the pan for 10 minutes, then transfer to a wire rack to cool completely.
For the frosting, simply cream together the coconut oil, honey, almond extract and salt, until well combined. If the coconut oil starts to melt (it melts at temperatures above 76 degrees), briefly place the mixture in the fridge to help it set.
Frost the cooled cookies, and let them set in the fridge for a more solid-frosting.
Notes
I recommend storing these cookies in the fridge, to prevent the frosting from getting too soft and sticky, they are delicious when served chilled or at room temperature!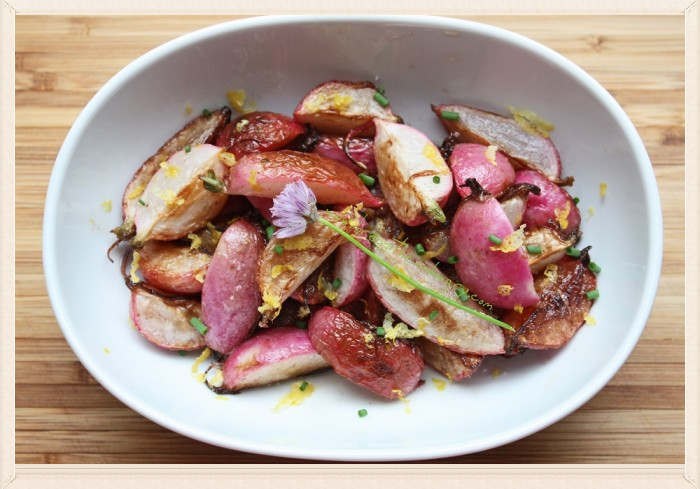 Pan Roasted Radishes
Yield: 2 servings
Serving Size: 3/4 cup cooked radishes
Ingredients
2 cups radishes, quartered
2 Tbl butter
1 Tbl lemon zest
1 tbl chopped chives (or other fresh herb)
salt and pepper to taste
Instructions
Melt the butter in a medium saute pan. Add the radishes and toss to coat. Cook over medium heat for about 10 minutes, stirring occasionally until softened and golden brown. Remove from heat and add the lemon zest and herbs. Season with salt and pepper to taste.
Alternatively you could roast these in olive oil in a 375 degree (F) oven for about 35 minutes. Then add whatever seasonings you prefer.
Approx. nutrition info per serving: 122 calories, 12g fat, 2.75g net carbs, 1g protein