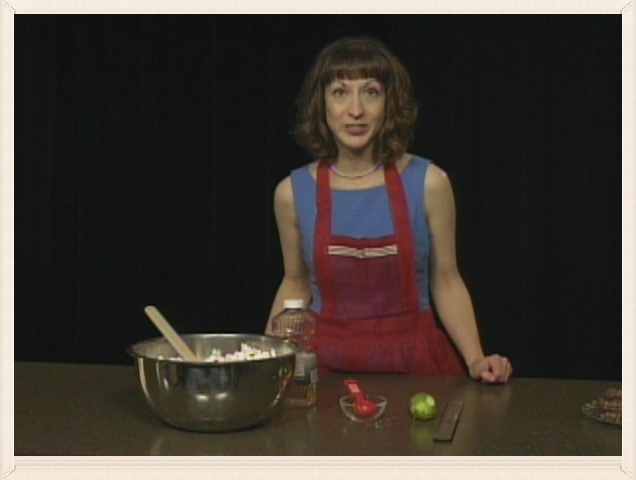 Chili-Lime Popcorn
Serves 8
Ingredients
2 tablespoons vegetable oil

1/2 cup popcorn kernels

1 1/4 teaspoons chili powder

1 1/4 teaspoons ground cumin

1/2 teaspoon coarse salt

1 tablespoon finely grated lime zest

1 large lime wedge (about 2 limes total)



Directions
Heat 1 tablespoon oil with 3 popcorn kernels in a large, heavy saucepan over medium heat. When kernels pop, add remaining 1/2 cup kernels. Cook, covered, shaking pan occasionally, until popping slows, 6 to 7 minutes. Remove pan from heat; let stand, covered, 1 minute.

Stir together spices, salt, and zest in a small bowl. Toss hot popcorn with remaining tablespoon oil in a large bowl; sprinkle with spice mixture. Squeeze lime wedge over popcorn. Toss to coat.
© 2014 Martha Stewart Living Omnimedia.
Real Lemonade!
Ingredients
1 cup sugar
1 cup water
1 cup lemon juice ( about 4-6 lemons)
3 -4 cups cold water
Directions
Make simple syrup by heating the sugar and 1 cup water in a small saucepan until the sugar dissolves completely.

While the sugar is dissolving, juice the lemons.

Add the juice and the sugar water to a pitcher. Add 3 to 4 cups of cold water, more or less to the desired strength.

Refrigerate 30 to 40 minutes. If the lemonade is a little sweet, add a little more juice.

Serve with ice and sliced lemons.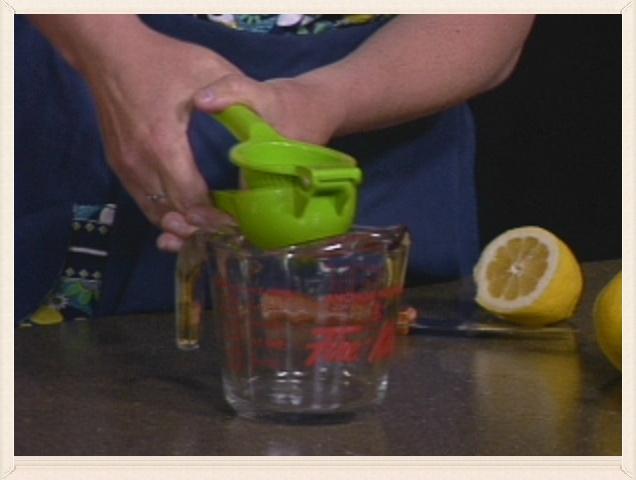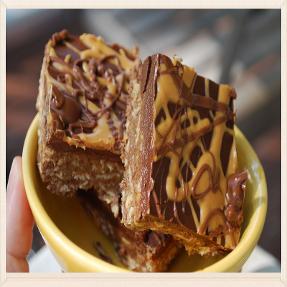 No-Bake Chocolate and Peanut Butter Oatmeal Bars
Yield Makes 2 dozen
Ingredients
Vegetable oil cooking spray
Chocolate Teddy Grahms, finely ground (2 cups – not quite a full box)
1 1/2 cups old-fashioned oats
1 1/4 cups confectioners' sugar
1/4 teaspoon coarse salt
5 ounces (1 stick plus 2 tablespoons) unsalted butter, cut into small pieces
1 cup chunky peanut butter
3/4 cup plus 3 tablespoons smooth peanut butter
10 ounces semisweet chocolate, melted
1 1/2 ounces milk chocolate, melted
Directions

Coat a 9-by-13-inch baking dish with cooking spray. Line with parchment, leaving a 2-inch overhang on the 2 long sides.
Combine grahms, oats, sugar, and salt in a large bowl. Melt butter in a medium saucepan over medium heat, then add chunky peanut butter and 3/4 cup smooth peanut butter, whisking until well combined. Add peanut butter mixture to wafer mixture, stirring until combined. Transfer to baking dish, and use the bottom of a measuring cup or an offset spatula to firmly press mixture into an even layer. Refrigerate for 30 minutes.

Pour melted semisweet chocolate over chilled mixture and, using an offset spatula, spread into a thin layer that covers the entire surface. Refrigerate until hardened, at least 15 minutes.

Heat remaining 3 tablespoons smooth peanut butter in a small saucepan until runny. Drizzle peanut butter over chilled chocolate. Drizzle melted milk chocolate over peanut butter. Refrigerate until hardened, about 15 minutes.

Use parchment to lift out chilled block of bars. Run a sharp knife under hot water, dry well, and cut into 24 squares, wiping knife between cuts. Let bars stand at room temperature for 10 minutes before serving. (Sliced bars can be refrigerated for up to 1 week or frozen for up to 1 month.)