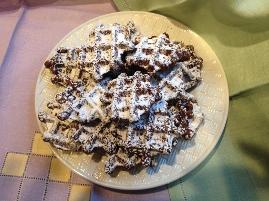 Boot Track Cookies
1/2 cup salted butter
2/3 cup sugar
2 large eggs
1 teaspoon vanilla extract
1 cup whole-wheat pastry flour
6 tablespoons cocoa powder
2 tablespoons canola oil
1/2 teaspoon espresso powder, (optional)
Confectioners' sugar, for dusting
Preheat a nonstick waffle iron (don't use a Belgian waffle iron for these.)
Cream butter and sugar in a medium bowl. Beat in eggs and vanilla. Add flour, cocoa powder, oil and espresso powder (if you are using it). Beat until thoroughly combined.
Drop the batter by rounded teaspoonfuls about 1 inch apart onto the preheated ungreased waffle iron. To avoid burned fingers, I use two spoons, one to scoop and one to scrape dough onto the waffle iron. Close and cook until the cookies are puffed and cooked through, 1 to 1 1/2 minutes. Waffle irons vary, so watch closely and don't let the cookies get too dark. Transfer to a wire rack to cool. Dust the cookies with confectioners' sugar while still slightly warm. You can also use melted bittersweet and/or white chocolate to drizzle on top or make a flavored drizzle with 1 cup confectioners' sugar, 4 teaspoons water and 1/4 teaspoon extract, like peppermint or orange. Yum, what a fun cookie and a healthy treat too!