Lemon & Sage Roasted Chicken
Ingredients
2 lemons, thinly sliced
6 fresh sage leaves
1 (6-pound) chicken
3 teaspoonsolive oil, divided
3/4 poundparsnips, peeled and trimmed
3/4 poundcarrots, peeled and trimmed
1/2 poundturnips, peeled and trimmed
1 poundfingerling potatoes, halved
2 tablespoonschopped fresh thyme
Preparation
1. Preheat oven to 425°. Place 6 lemon slices and sage leaves under skin of chicken. Put remaining lemon into cavity. Tie legs together with twine, and tuck wings under. Brush 1 teaspoon oil over chicken. Place chicken in roasting pan; roast in lower third of oven for 1 hour 15 minutes or until an instant-read thermometer registers 165°. Transfer chicken to a cutting board; let rest for 15 minutes.
2. Meanwhile, cut root vegetables into matchsticks. Toss with potatoes in a baking pan with remaining oil and thyme. Roast, stirring occasionally, for 45 minutes or until tender.
3. Remove skin from chicken. Discard lemons from cavity. Slice enough chicken to serve 4 (such as breasts), and serve with half of vegetables.
(www.health.com)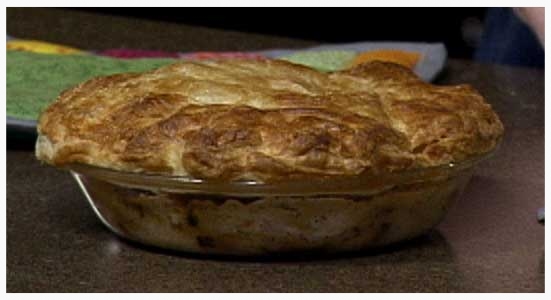 Chicken Pot Pie
1 sheet frozen puff pastry dough, thawed
2 teaspoons unsalted butter
2 teaspoons olive oil
3 tablespoons all-purpose flour
2 cups milk
2 tablespoons lemon juice
2 cups shredded leftover chicken
2 cups leftover roasted root vegetables, coarsely chopped
1/4 cup coarsely chopped fresh basil (if you don't have fresh you can use dried – just use one third the amount or 4 tablespoons)
1/2 teaspoon salt
1/4 teaspoon pepper
1/4 teaspoon sage
1 large egg white, beaten
Remember this is not an exact science so if you want to use different seasonings go right ahead!
Preheat oven to 425°. Roll out puff pastry to 1/4-inch thick, and cut to fit over your ovenproof bowls. (Make sure they are oven-proof!! If your bowl is made by Pyrex or Corning Ware you should be safe, check the bottom. ) Keep pastry covered and chilled.
To make a white sauce:
Heat butter and oil in a medium saucepan over moderate heat; add flour, and cook, whisking constantly, for 1 minute. Add the milk in a slow stream while whisking constantly; bring the mixture to a simmer. Simmer for about 5 minutes or until thickened. Stir in the rest of the ingredients – reserving the veggies & chicken. Pour sauce over chicken & vegetables and spoon mixture into ovenproof bowls. Top bowls with pastry, pressing against the outside edge of the bowls to seal. brush with egg white.
Bake pot pies on a baking sheet in middle of oven for 17 minutes or until pastry is golden brown. Serve hot.