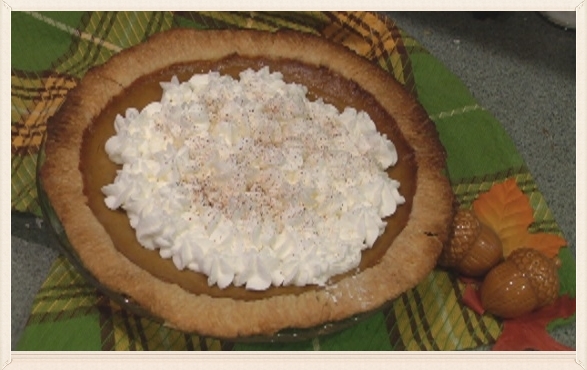 Pumpkin Pie
1 cup heavy cream
1 cup whole milk
3 large eggs plus 2 large yolks
1 teaspoon vanilla extract
1 (15-ounce) can pumpkin puree
1 cup drained candied yams from 15-ounce can*(if you can't find the candies yams, regular canned will work)
¾ cup sugar
¼ cup pure maple syrup
¼ teaspoon ground ginger
½ teaspoon ground cinnamon
¼ teaspoon ground nutmeg
1 teaspoon finely ground sea salt
1 pie crust, homemade or store-bought
Preheat oven to 400° F. Adjust oven rack to lowest position, and place rimmed baking sheet on the rack.
Whisk cream, milk, eggs, yolks, and vanilla together in medium bowl, and set aside.
Combine pumpkin puree, yams, sugar, maple syrup, ginger, cinnamon, nutmeg, and salt in large heavy-bottomed saucepan; bring to sputtering simmer over medium heat, 5 to 7 minutes. Continue to simmer pumpkin mixture, stirring constantly and mashing yams against sides of pot, until thick and shiny, 10 to 15 minutes.
Remove pan from heat and whisk in cream mixture until fully incorporated. Strain mixture through fine-mesh strainer set over medium bowl, using back of ladle or spatula to press solids through strainer. Re-whisk mixture.
Return pie plate with baking sheet to oven and bake pie for 10 minutes. Reduce heat to 300 and continue baking until edges of pie are set (instant-read thermometer inserted in center registers 175 degrees), 20 to 35 minutes longer. Transfer pie to wire rack and cool to room temperature, 2 to 3 hours. America's Test Kitchen